Shaun White is currently fighting to qualify for the final US team for the 2022 Winter Olympics. Reaching the finals of the LAAX Open, he is now inches away from clinching the spot to Beijing.
ADVERTISEMENT
Article continues below this ad
The 3-time Olympic champion, however, has already announced that this will be his last Olympics. Regardless of what the future holds, White prepares to bid goodbye to the sport.
ADVERTISEMENT
Article continues below this ad
Recently, White revealed how pro skater Tony Hawk helped him go through the decision of retirement.
This is what Tony Hawk said to White about retirement
Shaun White will make history if he qualified for his 5th Olympic Games. Notably, the star athlete has already won 3 gold medals in his last 4 appearances and will certainly be aiming for another.
However, the 35-year-old revealed earlier last year that he will retire after the Winter Games. Undoubtedly, it was a tough decision for the pro athlete to quit snowboarding after years of dominance.
White, who is also a skateboarder, revealed that skateboarding legend Tony Hawk helped him make peace with his decision.
"Man, I retired ages ago, and look how much I've done since," said Hawk to White.
Notably, Hawk himself retired in 2003 at 35, and now he feels like he should have retired even before that.
"There's a whole life outside of competing, and you're really humbled and pleased once you kind of take that first step,"  said Hawk. "Honestly, I wish I retired years before I did."
What kind of life does Shaun White want to have after retirement?
ADVERTISEMENT
Article continues below this ad
Shaun White has two siblings, both of whom have families of their own. Now that White will soon retire, he too has similar plans.
"That family life sounds so exciting and new and terrifying at the same time. A whole 'nother kind chapter in life," said White.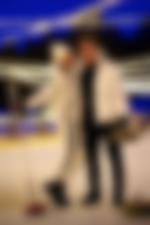 ADVERTISEMENT
Article continues below this ad
Currently, all eyes turn to the finals of the Laxx Open as White battles it hard to make it to Beijing. If Shaun does qualify, do you think he will win a fourth gold medal in his last dance?
DIVE DEEPER